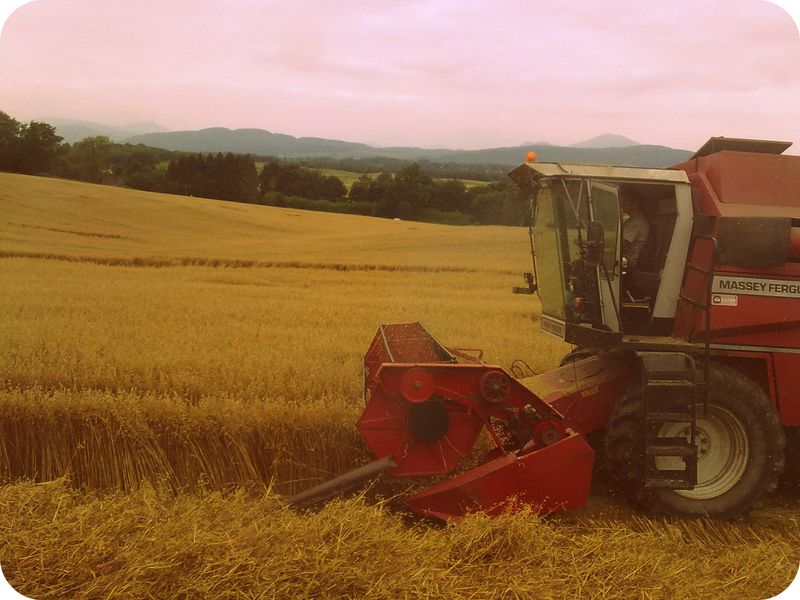 Its been a hive of activity here on the farm. The hay is all baled, and stacked in the shed ready for winter, and for selling...so its now onto the harvest. The first field of barley has been cut, and we are going to crimp this. This is a process where you bruise the barley in moist conditions then store it in a 'pit', which is covered and sealed with black plastic. It turns the barley into a high quality feed for the cows in the winter, and they just love it! We have started to combine the oats (above) They will be sold to Quaker for porridge!
Apart from the farm, I have been busy gardening, painting and stewing & puree-ing lots of food for my wee mans huge appetite. Every night I seem to be glued to Anabel Karmels babyfood recipe book looking at new recipes to try!! Chicken, apple and sweet potato seems to be the big hit!!
I have made one huge decision this week! I have decided to take my plates to Scotlands Autumn trade fair at the SECC in September!!! I did it many years ago with my glass, and it was a success! So fingers crossed it will be the same with my plates!
I have made a new website for my plates. It is www.tartanhearthome.com.