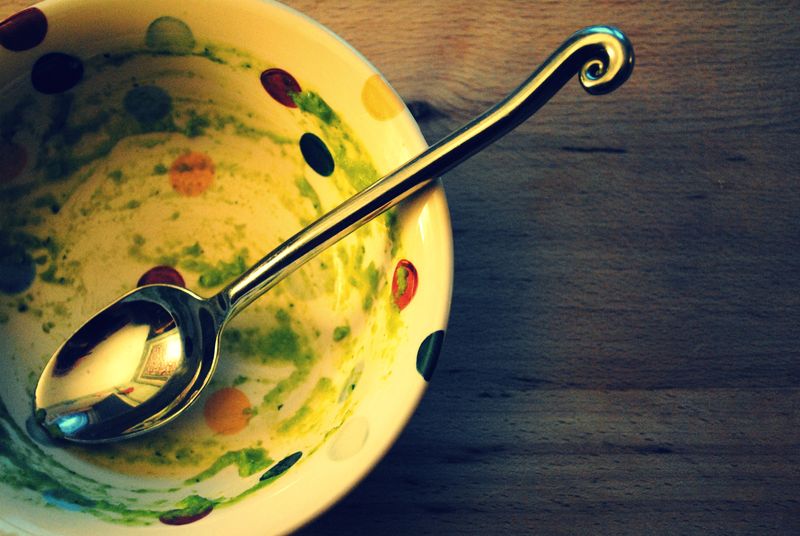 I am making a big effort to fill my family with lots of vegetables this winter! I am trying to make a few different varieties of soup per week, and not just the usual carrot and potato..or anything else I have lying around in my fridge.
My new soup, Pea & Coriander  is from Rachel Allens "Rachel's favourite food" recipe book. My husband..the soup critic, loved it, and it was so quick to make which made it even better. It was chopped,boiled and whizzed ready for lunch in a 10 minute window between my toddler getting his breakfast, and my baby  waking up!! 
It is the first time I have made pea soup, and I was rather taken aback with the colour of it! It looks like something from a witches cauldron, but tastes utterly divine!!
The Recipe
50 g butter
150 g onions, chopped
2 cloves garlic

1 red or green chillies, seeds removed and chopped

0.5 tsp salt and black pepper, or to taste

850 ml chicken or vegetable stock

450 g fresh or frozen peas
2 tbsp chopped coriander
Melt the butter in a large saucepan, and add the onion, garlic and chilli. Cover with a greaseproof paper and a lid, and sweat over a low heat for 3 or 4 minutes, or until the onions are soft. Pour in the stock, and bring the soup to the boil.

Tip in the peas and boil rapidly, without the lid, for about 2 or 3 minutes, or until the peas are tender. Add the coriander to the soup, and blend in a liquidiser until smooth.