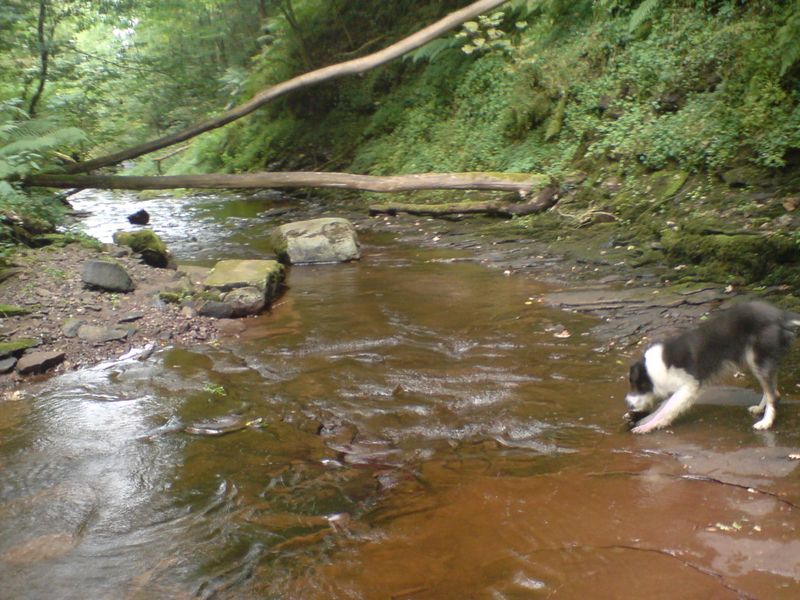 Tonight after work we decided to have a walk up the glen on the farm. To you, the glen probably sounds like some mountainous landscape that you would find on a shortbread tin. In reality, it is not this...it is something far more magical and beautiful. The glen is a wooded area that runs through the middle of the farm,with a small shallow burn (stream) running through it. Once you have entered the glen you have to walk through the burn, as the walls are like cliffs made up of trees and shrubbery. It is lovely at this time of year as all the new shoots and leaves are bursting out, and displaying a beautiful array of colour. The walk can be pretty challenging at times, especially when fallen trees lie over the burn, and climbing through them feels like walking through knitting!
After falling into the water on some slippy stones at the beginning, we soldiered onwards and upwards, with our Jack Russel Jock, and Collie Bill. After walking for about half an hour, the sound of trickling water from the burn, was soon replaced by the sound of powerful water hitting off rocks.  We turned the corner, and suddenly , right in front of us, was the magical sight of a beautiful waterfall. It reminded me very much of the Timotei Shampoo advert! The only way to reach higher ground, and continue our walk was to climb up the waterfall. Luckily there were steps up it, that nature had very cleverly carved out. So we lifted the dogs up first, then heaved ourselves up. It felt like such an achievement to reach the top.
Once we had passed the waterfall, it was luckily not too long till we reached the fence that would  lead us back into familiar territory, as by this stage the light was slowly starting to fade, and the water below me was starting to look like treacle. We climbed out of the glen, and over the fence into the field, it felt like we had just been on a mini adventure! Its hard to believe that this is all on our doorstep!
I'm now back home, enjoying the heat from my stove, and the taste of freshly baked  pancakes. We'll sleep well tonight!